---
Chancellor's Message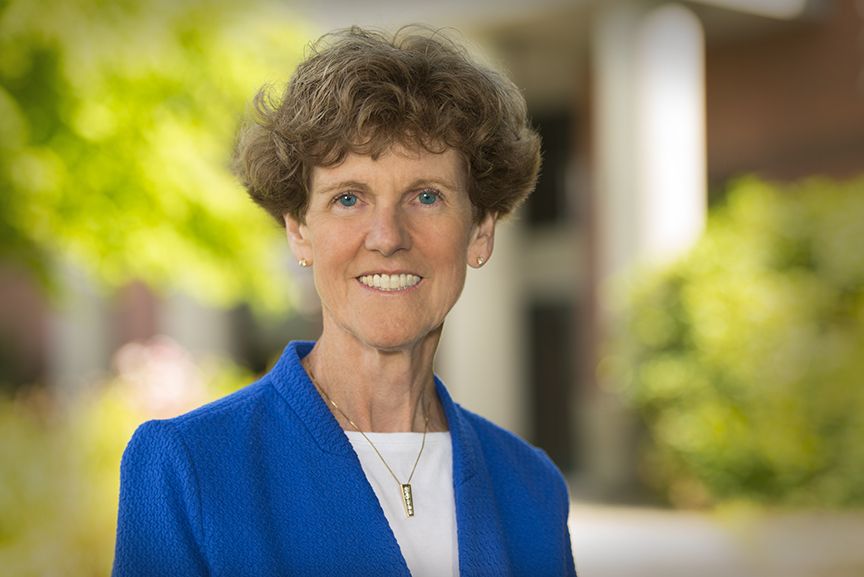 Welcome to Pierce College!
Your possibilities here are limitless. And we are dedicated to helping you along your path of success.
Student success is at the center of all we do. We offer quality education, beautiful college campuses, excellent student programming and services, and state-of-the-art technology. We strive to create a truly great experience in an environment that nurtures a variety of learning styles, with small class sizes and lots of individual attention. When we ask students why they chose Pierce College we usually hear that a friend or relative attended and recommended coming here.
Tens of thousands choose Pierce College each year, to earn an associate degree or one of our new bachelor of applied science degrees, get a head start on a bachelor's degree from a four-year university, or to upgrade job skills. We hope you join them. We look forward to getting to know you, and to help you realize your possibilities.
Thank you,
Michele L. Johnson, Ph.D.
Chancellor and CEO
The Colleges
In 1967, Pierce College began creating life-changing possibilities for students out of a makeshift building in Lakewood. Today, the college district encompasses two colleges in Lakewood and Puyallup, education centers at Joint Base Lewis-McChord, virtual education through its distance learning program and extensive community education opportunities, as well as additional programs at sites throughout Pierce County.
Pierce College offers college courses at Graham-Kapowsin High School, bringing access to higher education to communities in south Pierce County. Courses are offered in the late afternoon and evenings, allowing working adults the added flexibility of earning college credits in their own community.
Pierce College also offers college courses at Spanaway Lake High School. The schedule for these day-time courses is conveniently aligned with the high school to provide maximum flexibility for students and community members who live or work nearby. Pierce College instruction, services and support will be provided in a portable classroom on site.
Classes are taught by Pierce College professors and course offerings include general requirements students will need for nearly any career or education pathway they wish to pursue.
Pierce College Fort Steilacoom
At Pierce College Fort Steilacoom, learning takes place on a serene, 140-acre campus with its own lake, hiking trails and views of Mount Rainier. The centerpiece of the college, the Cascade Building, has been transformed into a modern learning space with an expansive library and Welcome Center, while the college's newest building, the Rainier Science and Technology Building, aligns with the highest standards for environmental sustainability. Pierce College's Science Dome is the only 3D planetarium in the South Sound. The dome shows breathtaking images of the night sky and visually simplifies complicated scientific concepts. The college is also home to the Milgard Child Development Center, where infants and children are nurtured in a family-like atmosphere, and the Health Education Center, a fully equipped recreation and fitness facility.
Pierce College Puyallup
Pierce College Puyallup occupies a beautifully wooded 85-acre site on Puyallup's South Hill, commanding a spectacular view of Mount Rainier. The campus features a large, modern library, state-of-the-art laboratories and spacious classrooms. The college's newest addition is the Arts and Allied Health Building, which features the only performing arts center in East Pierce County. The theater is an elegant location for plays, concerts and guest speakers, providing a critical arts space for students and the community. In addition, the building is home to the J. Moceri Nursing Skills Lab, the centerpiece of Pierce's nursing program. The college also boasts the Garnero Child Development Center, a family-centered facility aimed at developing whole-child health and wellness, and the Health Education Center, a full-service fitness and recreation facility.
District Vision, Mission, Values and Core Themes
Possibilities realized - that's Pierce College's vision for all of its students. This vision is supported by guiding values and an active mission. The mission is the conceptual framework that directs the district's programming, services and activities. The key tenets of the mission are represented in the district's core themes, and mission fulfillment is measured through the institutional objectives and evidence-based indicators, including the five core abilities.
Vision
Possibilities realized: Innovative and engaged learners enriching our local and global communities.
Mission
Create quality educational opportunities for a diverse community of learners to thrive in an evolving world.
Values
Learning, Integrity, Respect, Accountability, Sustainability
Core Themes
Access
The community Pierce College serves will have access to comprehensive educational offerings and support services.
Excellence
Pierce College will assure quality and continuous improvement in all endeavors.
Contribution to the Community
Pierce College will be a recognized leader in building and sustaining academic, industry, and broad-based community partnerships to advance educational opportunities and align with economic development.
Equity, Diversity, and Inclusion
Pierce College will promote an equitable, diverse environment for teaching, learning and working, with collaborative decision-making and mutual respect.
Student Learning and Success
Students will experience quality, relevant learning that maximizes their potential for success.
Educational Philosophy
It is the goal of Pierce College to prepare students to live and work in a dynamically changing world by emphasizing whole-student development and hands-on learning. Through experiences both in and out of the classroom, students are given the opportunity to broaden their horizons and be challenged in ways that encourage the development of the five core abilities vital to succeeding in life.
The Five Core Abilities
Critical, Creative and Reflective Thinking
Graduates will evaluate, analyze and synthesize information and ideas in order to construct informed, meaningful and justifiable conclusions.
Effective Communication
Graduates will be able to exchange messages in a variety of contexts using multiple methods.
Information Competency
Graduates will be able to seek, find, evaluate and use information, and employ information technology to engage in lifelong learning.
Multiculturalism
Graduates will demonstrate knowledge of diverse ideas, cultures and experiences, and develop the ability to examine their own attitudes and assumptions in order to understand and work with others who differ from themselves.
Responsibility
Graduates will be able to critically examine the relationship between self, community and/or environments, and to evaluate and articulate potential impacts and consequences of choices, actions and contributions for the creation of sustainable systems.
Accreditation
Pierce College is accredited by the Northwest Commission on Colleges and Universities. Accreditation of an institution of higher education by the Northwest Commission on Colleges and Universities indicates that it meets or exceeds criteria for the assessment of institutional quality evaluated through a peer review process. An accredited college or university is one which has available the necessary resources to achieve its stated purposes through appropriate educational programs, is substantially doing so, and gives reasonable evidence that it will continue to do so in the foreseeable future. Institutional integrity is also addressed through accreditation. Accreditation by the Northwest Commission on Colleges and Universities is not partial but applies to the institution as a whole. As such, it is not a guarantee of every course or program offered, or the competence of individual graduates. Rather, it provides reasonable assurance about the quality of opportunities available to students who attend the institution. Inquiries regarding an institution's accredited status by the Northwest Commission on Colleges and Universities should be directed to the administrative staff of the institution. Individuals may also contact:
Northwest Commission on Colleges and Universities
8060 165th Avenue N.E., Suite 100
Redmond, WA 98052
425-558-4224 | www.nwccu.org
For further information on Pierce College accreditation, please contact Dr. Debra Gilchrist, Vice President for Learning and Student Success, (253) 964-6584, dgilchrist@pierce.ctc.edu.
Pierce College Foundation
The Pierce College Foundation's mission is to acquire private funding for the district, to provide enhancements to college programs, to improve access for students, and to promote the colleges to the community. The generosity of donors makes a difference every day in the lives of students throughout the Pierce College District. For more information about the Foundation, or to make a donation, please call 253-864-3260 or visit the Foundation web page.
Achieving the Dream Leader College of Distinction
Pierce College was selected as an Achieving the Dream Leader College, a national designation awarded to community colleges that commit to improving student success and closing achievement gaps.
In 2019, Pierce College was named an Achieving the Dream Leader College of Distinction for achieving new, higher student outcomes and narrowing equity gaps. The Leader College of Distinction designation was created to recognize colleges that have continued striving to meet challenging student success goals, often earning Leader College status several times.
In 2017, Pierce College received Achieving the Dream's highest honor, the Leah Meyer Austin Award. This award annually recognizes an Achieving the Dream institution that has demonstrated outstanding progress in achieving organizational and cultural change in pursuit of a student-success vision that integrates all of its individual efforts into a cohesive strategy. Achieving the Dream performed an extensive review of specified practice and performance activities. Pierce College has shown how data can inform policy and practice to help community college students achieve their goals, resulting in improved skills, better employability and economic growth for families and communities – and the nation as a whole.
Aspen Rising Star
As a finalist for the 2019 Aspen Prize for Community College Excellence, Pierce College Fort Steilacoom was recognized with a Rising Star award for dramatically improving student outcomes. This places Pierce College in the top 5 community colleges in the nation.
The college was honored for improved student retention and completion over time, a commitment to equitable outcomes for students, service to military students and their families, and a dedicated focus on helping all students overcome obstacles. Our completion rate of 59 percent is nearly 20 percentage points above the national average.
The Aspen Prize, awarded every two years, recognizes outstanding institutions selected from an original pool of more than 1,000 community colleges nationwide.
Degrees and Certificates
Students planning to work toward a bachelor's degree or beyond can attend Pierce College for two years and transfer to a university with junior standing. Because class sizes are small at Pierce, students receive the personalized attention they need to be successful. In fact, research shows that transfer students from Pierce do as well at the University of Washington and Western Washington University as students who begin their careers at the four-year schools.
University Transfer Degrees
Direct Transfer Degrees (DTAs) ensure that students who complete these degrees have satisfied the lower division general education/core requirements and lower division degree-related requirements for Washington state baccalaureate institutions.
Associate of Arts (AA-DTA)
When you earn a two-year Associate of Arts Direct Transfer Degree, you can transfer to any public university in Washington state as a junior, with virtually all your general education credits fulfilled. Many private colleges also accept these degrees. These degrees are often abbreviated as AA-DTA (the DTA stands for Direct Transfer Agreement). This is Washington's most popular and most flexible transfer degree.
Major Related Pathway (DTA/MRP) Degrees
Some transfer degrees help prepare students for a particular major, like business or nursing. These are called "Major-Related Programs" and are sometimes abbreviated DTA/MRP. If you earn this type of two-year degree, you can transfer as a junior only if the community or technical college has an agreement with the university. Work with your advisor to see if your college has an MRP agreement with the university you want to attend. University transfer degrees are available in biology, business, construction management, pre-nursing, music and math education.
Associate of Science (AS-T) Degrees
The Associate of Science transfer (AS-T) degrees are designed to prepare students for upper-division study. Students completing the AS-T degree will receive the same priority consideration for admission to the baccalaureate institution as they would for completing the DTA associate degree, and will be given junior status by the receiving institution. Students are responsible for checking specific major requirements of Washington baccalaureate institutions in the year prior to transferring.
AS-T Track 1 for science pre-majors in biological sciences, environmental/resource sciences, geology, earth science and chemistry.
AS-T Track 2 for science pre-majors in engineering, computer science, physics and atmospheric sciences.
Professional/Technical Degrees and Certificates
Pierce College's professional/technical degrees and certificates are designed to provide students with technical and related skills needed for successful employment. These degrees and certificates emphasize practical, work-related skills that translate to effectiveness and expertise in the workplace.
Bachelor of Applied Science (BAS)
To keep up — and stay ahead — in the ever-changing workplace, education and skills training is a lifelong pursuit. Get the skills to go further in your career with a bachelor's degree from a community or technical college. An applied bachelor's degree builds on the education and training from a two-year technical associate degree.
The Bachelor of Applied Science in Applied Business Management (BASABM) is a cohort-based, two-year, professional degree that prepares students for high demand entry and management positions in for-profit and non-profit organizations. A focus on systems thinking, adaptive strategies, and hands-on learning help graduates have the skills and knowledge to develop innovative and practical solutions to today's complex business challenges. This degree offers a mix of technical, transferable, and lifelong learning skills to help its graduates thrive in our rapidly changing world. Career pathways include positions in human resource development, marketing, project management, sales, and supervision.
The Pierce College Bachelor of Applied Science in Dental Hygiene (BASDH) Program prepares learners for the privilege and responsibility of the profession of Dental Hygiene. This preparation focuses on essential competencies for successful clinical practice in the dental hygiene profession; inspires lifelong learning and service to the community; promotes inter-professional education and practice; and emphasizes personal wellness. Specifically, our bachelor's degree in dental hygiene provides the knowledge and skills to work beyond the clinical realm in areas of education, administration, corporate, public health, and research.  Graduates are also primed for application to graduate schools where the courses and credits apply. 
The Bachelor of Applied Science in Homeland Security Emergency Management (BAS/HSEM) is an online multi-disciplinary management level program designed to train the next generation of adaptive leaders to work collaboratively across industry sectors and interact with each other to produce a synchronized plan for a whole community response to emergencies, disasters or catastrophic events. Homeland Security Emergency Management is a cross-functional industry that requires managers and leaders who have the ability to think through multiple systems, processes and relationships to analyze how various public, private and non-profit organizations function.
The Bachelor of Applied Science in Teaching (BAS-T) builds on the college's professional-technical program in early childhood education while giving students access to a baccalaureate degree with teacher certification and endorsements in P-3 early childhood education and early childhood special education.
Associate of Applied Science (AAS)
Students who complete the Associate of Applied Science (AAS) degree in one of Pierce College's specific professional/technical programs will receive a degree titled with that program specialty. Students must successfully complete a minimum of 90 quarter credits or their equivalent, including all specific requirements of an approved professional/technical program. The purpose of these degrees are to provide immediate employment.
Associate of Applied Science - Transfer (AAS-T)
The AAS-T is built upon the technical courses required for job preparation but also includes a college-level general education component, common in structure for all such degrees. The AAS-T is designed for the dual purpose of immediate employment and as preparation for the junior year with institutions Pierce College has agreements with for a bachelor of applied science (BAS) degree. The AAS-T degree generally will not be accepted in preparation for Bachelor of Arts or Bachelor of Science degrees, although the general education component of the degree will be accepted. Check with your advisor on these degrees.
Associate in Technology - General
A graduate of any approved occupational/vocational program from an accredited college, military school, vocational/technical institute, technical college, licensed private college, vocational school, industry, apprentice-based training or university may be granted up to 65 quarter credits toward the Associate in Technology – General degree. The remainder of the student's program shall include related instruction in each of the following areas: communications, computation and human relations. All related instruction courses must be numbered 100 or above. A total of 90 credits is required.
Professional/Technical Certificates
Professional/technical certificate programs emphasize basic, practical skills needed for entry-level employment. Often, these programs can be completed in a short period of time, preparing a student with beginning job skills or providing knowledge and skills that are needed for advancement in a specific professional/technical area.
Educational Choices
eLearning
eLearning Web Page
eCampus
email: distedu@pierce.ctc.edu
Toll-Free: 1-877-ELforMe • 253-964-6244
Pierce College eLearning courses are a convenient option for students juggling work, family and school. eLearning courses are affordable and transferable, just like traditional courses. In addition to a large variety of classes that are held entirely online, Pierce College eLearning also has a growing list of hybrid courses, which combine reduced classroom hours with online learning. Another popular option is web-enhanced classes, which add an online component with a more traditional classroom experience. To learn more about Pierce College's eLearning options, visit the eLearning web page.
Pierce Open Pathway
The Pierce Open Pathway (POP) is a university transfer degree with no textbook costs. Students who follow the pathway can earn an Associate of Arts direct transfer degree (AA-DTA) using online alternatives to traditional textbooks. POP courses feature low/no cost learning resources to support student learning and success. Currently, POP is open to all students through Pierce College at Joint Base Lewis-McChord. Interested students should contact their advisor for information about eligibility and registration.
Pierce College at Joint Base Lewis-McChord
Pierce College at Joint Base Lewis-McChord (JBLM) offers classes and student services at both Stone Education Center on Lewis-Main and the McChord Education Center on McChord Field to meet the educational needs of active duty personnel, their family members, veterans and civilians. Pierce College at JBLM offers nine-week face-to-face and online sessions. Classes are held online, in the evenings, at lunch times, mornings, afternoons and on Saturdays to meet the needs of the military community.
The extensive online program offers seven entry points throughout the year to provide maximum flexibility for the military community. Several degree options, including the Associate of Arts-DTA, can be completed entirely in the online format.
Offices at Stone and McChord Education Centers provide full student support services, including advising, registration and testing. The Stone Education Center also offers veterans financial aid, and access and disability advising on limited days of the week. Please call (253) 964-6567 to verify days and times.
International Education
Pierce College's International Education office provides admissions, orientation, support services and cultural and social activities to international students at Fort Steilacoom and Puyallup. In addition, a four-level college-prep Intensive English Program is offered at the Fort Steilacoom campus. The International Education department also promotes international and multicultural educational experiences for all students and community members in the district such as the International Club and Conversation Partners. For details on how to get started as an international student at Pierce College, see "International Students" in the Getting Started  section of this catalog or visit the International Education web page.
Study Abroad
Pierce College provides study abroad experiences in different locations around the world. Students interested in study abroad opportunities can contact the International Education office at 253-964-6725 or go to the Study Abroad web page for the most current locations.
Workforce Education
Workforce Education supports the entry and re-entry of students and members of the community into the workplace. Pierce College provides financial assistance to students through a variety of programs. Pierce College also develops and funds educational and training programs that meet the needs of local employers. Workforce Education programs bridge the skills gap, helping people find fulfilling careers to support themselves and their families, while building the local economy. For more information, visit the Workforce web page, call 253-964-6265, or visit the Welcome Center at Pierce College Fort Steilacoom (3rd Floor of the Cascade Building), or the Student Success Center at Pierce College Puyallup (ADM 106). 
Below is a summary of key Workforce programs:
Professional/Technical Training Programs
Students can select from a wide variety of short- and long-term training programs designed for employment preparation. Faculty advisors work in coordination with the Workforce Education staff to provide support services and referrals. See the Programs A-Z  section of this catalog for a list of current training programs.
Worker Retraining
Unemployed and dislocated workers may receive assistance to complete job training. You may be eligible if you meet any of the following requirements:
Students who are currently receiving unemployment benefits, or who have received or exhausted their unemployment benefits in the last 48 months, or
Students who have separated from active military service in the last 48 months, or have an official notice of separation, or
Students who are Displaced Homemakers, or
Students who were formerly self-employed in the past 24 months, or
Student currently working a "stop gap" job and have received unemployment benefits in the last 48 months, or
Students who are currently working in a "not in-demand" occupation and need to return to school to be trained into an "in-demand" occupation.
For more information, call 253-964-6265 or visit the Workforce web page for further details.
WorkFirst
Parents receiving WorkFirst cash assistance (TANF) through DSHS may be eligible to receive assistance to help them complete job training. There are several ways WorkFirst participants may fulfill their work requirements, including WorkFirst Work Study, while attending school. All professional/technical training programs except Bachelor's degrees are eligible for WorkFirst. Call 253-912-3617, email workfirst@pierce.ctc.edu, or visit the Workforce web page for further details.
Basic Food Employment & Training (BFET)
Students receiving Basic Food assistance (SNAP) through DSHS may be eligible for assistance while completing job training. BFET participants may fulfill their work requirements and receive DSHS sponsored subsidized childcare, while going to school. All professional/technical training programs except Bachelor's degrees are eligible for BFET. Call 253-964-6264 or visit the Workforce web page for further details.
Opportunity Grant
The Opportunity Grant Scholarship Program helps low-income students enrolled in approved career training programs pay for tuition and books. Awards are based on financial need and funding availability.
The following programs are Opportunity Grant eligible:
| | |
| --- | --- |
| Accounting - Puyallup only | Business Management |
| Business Information Technology | Computer Network Engineering - Puyallup only |
| Construction Management | Criminal Justice - Fort steilacoom only |
| Database Management and Design - Puyallup only | Digital Design |
| Early Childhood Education - Fort Steilacoom only | Health Informatics & Integrated Technology - Puyallup only |
| Kinesiology - Fort Steilacoom only | Medical Billing |
| Nursing - Puyallup only | Nursing Assistant Certified - Puyallup only |
| Pre-Nursing | Project Management |
| Social Service Mental Health - Fort Steilacoom only |   |
| Size of Family | Annual Income Limit |
| --- | --- |
| 1 | $24,120 |
| 2 | $32,480 |
| 3 | $40,840 |
| 4 | $49,200 |
| 5 | $57,560 |
| 6 | $65,920 |
| 7 | $74,280 |
| Each additional person - $8,360 |   |
Transition and Support Services
Career-related programs and advising are available for students transitioning toward the workplace.
PierceWorks! This worker retraining program includes 100+ hours of in-class job search skills and assessment and 60 hours of computer training. Twenty credits are awarded for completion. Call 253-840-8428 for more information.
Job & Career Connections/WorkSource Affiliate
Pierce College is a partner in a statewide system that provides access to countywide employment information and services. Job & Career Connections maintains a job board and job seekers can use MyInterfase, a free job-matching service linking registered users to a database of approved internships, work study and job opportunities in the region. Call 253-964-6265 or visit the Workforce web page for details.
Community and Continuing Education
Community and Continuing Education offers a wide variety of student-supported courses focusing on personal enrichment and professional development to meet the diverse needs of the population served by Pierce College. Day, evening and weekend on-site courses are offered at a variety of locations across Pierce County. In addition, there are over 500 online courses available to individuals in the community. Offerings include:
| | | |
| --- | --- | --- |
|   | Art and creativity | Language |
|   | Body, mind and health | Music and singing |
|   | Business | New age |
|   | Career training | Photography |
|   | CATIA V5 | Professional development |
|   | Computers and technology | Teacher training |
|   | Dance and fitness | Trade skills |
|   | Educator courses | Travel |
|   | Home and garden |   |
A schedule of course offerings is mailed four times a year to the community. For more information, visit the Community and Continuing Education web page, call 253-840-8452 or email to CE-questions@pierce.ctc.edu.
Customized Contracted Training
Invista Performance Solutions is a collaboration of four Pierce County community and technical colleges: Clover Park Technical College, Pierce College Fort Steilacoom, Pierce College Puyallup and Tacoma Community College.
Launched in September 2011, Invista Performance Solutions, a partnership of these colleges, operates as a single point of contact for regional business to access workforce development services. The mission is to assist companies and organizations to gain a competitive advantage in the global economy by increasing the skills of their workforce. Invista offers high-quality training and learning solutions to meet and exceed client expectations.
Invista Performance Solutions is also a member of Global Corporate College and actively works with 45 colleges across the United States and internationally to serve companies and organizations with an expanded footprint. Invista Performance Solutions has a successful history of delivering high-quality facilitation, coaching, contract training and seminars that are personalized to the performance goals of each business served. For more information, visit the Invista website or call 253-583-8860.
Department of Social and Health Services Programs
Pierce College provides educational programs and/or staff development training for Rainier School and Western State Hospital. These programs are provided under a contract with the Washington State Department of Social and Health Services.
Rainier School
Pierce College offers courses on how to provide opportunities for people with developmental disabilities to learn daily living skills. Information is available at Rainier School, 360-829-1111, ext. 4335.
Western State Hospital
Basic Skills instruction is offered to patients on most wards at Western State Hospital. Patients may also work toward completion of a high school diploma, prepare for the GED, take computer literacy classes and prepare for a future vocation. For more information, call 253-756-2767.
Central Washington University - Pierce County
A partnership with Central Washington University (CWU) offers Pierce College students a seamless transfer to a baccalaureate degree with CWU-Pierce County, located on the Pierce College Fort Steilacoom campus. Pierce College has also partnered with CWU to develop a Dual Admission Program, which gives Pierce College students access to resources at both Pierce College and CWU during their academic career. This allows students to be better prepared to transfer into a baccalaureate program. Additionally, the CWU $50 admission application fee is waived. Find more information visit the CWU website.
Programs offered (face-to-face and online) include:
BUSINESS
BS Business Administration - Specializations - Supply Chain Management or Leadership and Management
BAS - Supply Chain Management
Post Graduate Certificate - Supply Chain Management
EDUCATION
BAEd Elementary Education
IT MANAGEMENT
BAS/BS IT Management - Specializations - Administrative Management, Information Technology and Cyber Security
INTERDISCIPLINARY STUDIES – SOCIAL SCIENCES
BS Interdisciplinary Studies - Social Sciences (Psychology, Sociology, Women and Gender Studies, Political Science or Economics)
LAW AND JUSTICE
SOCIAL SERVICES
Online degree programs include:
BA English – Writing Specialization
BS FlexIT – Retail Management & Technology (competency based)
BS Interdisciplinary Studies – Social Sciences
BAs in Law & Justice, Psychology, Sociology
These programs are offered at our campus at JBLM Stone Education Center:
BUSINESS
BS Business Administration – Specializations-Supply Chain Management or Leadership and Management
BAS – Supply Chain Management
Post Graduate Certificate – Supply Chain Management
Visit the CWU website for further information.