Faculty: Chad Bemis, Sharon Camner, Pete Kaslik, Rajesh Lal, David Lippman, Tom Phelps, Melonie Rasmussen (FS) Deb Falcioni, Phyllis Fikar, Tony Granata, Marlene Ignacio, Tom McCollow, Roya Sabeti, Ph.D., Larry Wiseman (PY)
Website: www.pierce.ctc.edu/math
The mathematics department offers a sequence of introductory courses that build the basic quantitative and symbolic reasoning skills needed in almost all fields of study and professional/ technical programs. Pierce College also provides a sequence of college-level math courses for students transferring to four-year colleges or pursuing technical vocational programs. These courses satisfy the math requirements for majors in mathematics and in such disciplines as business, accounting, economics, statistics, actuarial science, math education, engineering and all of the sciences. These college-level courses include the math needed for the Associate of Science (AS-T) degree from Pierce College.
In many disciplines, people use mathematics to help make sense of phenomena observed in the world by analyzing data, finding patterns and developing theories. Math also assists in the development of critical thinking and reasoning skills that can be used to solve problems in a variety of applications.
Pierce College offers a full sequence of pre-college mathematics classes to accommodate students entering the college with a variety of math backgrounds. (See below for the sequence of pre-college level courses.) In addition to the regular classroom format, some of these courses are offered in the Math Lab and as distance learning courses for students who prefer these options. The Math Lab also makes it possible for students to complete more than one course in a quarter for the cost of one. The majority of eLearning/distance learning courses in mathematics require a proctored exam that can be taken at any college/university or military testing center. You will need to discuss this with your instructor.
College-level mathematics courses at Pierce College include the study of contemporary math, elementary math education, math for business, statistics, precalculus, differential and integral calculus, and more advanced courses in multivariate calculus, linear algebra and differential equations. Each course includes examples of applications taken from many fields of study. Most of these courses require the use of graphing calculators. The graphing calculator rental program rents TI-73, TI-83, and TI-89 calculators for a nominal fee through the library.
Students completing MATH 096  (Intermediate Algebra in Context) or MATH 098  (Intermediate Algebra for Precalculus) have a range of choices to satisfy the quantitative skills requirement for the AA-DTA degree. The appropriate choice depends on a student's major and intended transfer institution. Additional math courses may be required depending on a student's program of study. Each transfer student should carefully plan a program of study with the help of a faculty advisor to ensure that transfer requirements are met.
Math Course Sequence - Getting Started
Initial placement in the sequence depends on COMPASS placement test scores, transfer courses (as applicable), and High School Transcripts (if completed within 2 years of admission).
Pre-College Level Sequence:
MATH 050  (Basic Mathematics)
↓
MATH 054  (Beginning Algebra)
↓
MATH 096  (Intermediate Algebra in Context)
↓
MATH 098  (Intermediate Algebra for Precalculus)
For Science, Technology, Engineering, Math (STEM) or Business majors who need MATH& 141  or MATH 147  
College Level Quantitative Skills (QS) Math Course Options:
| COURSE | PREREQUISTE |
| --- | --- |
| MATH& 107: Math & Society | MATH 096 or MATH 098 |
| MATH 114: Applied Algebra, Geometry, Trig (only offered at military sites | MATH 098 |
| MATH& 141: Precalculus I | MATH 098 |
| MATH 147: Business Precalculus | MATH 098 |
| MATH& 131: Math for Elem Educ I | MATH 096 or MATH 098 |
| MATH& 146: Intro to Statistics | MATH 096 or MATH 098 |
Math Course Pattern
Your placement score will determine where you start.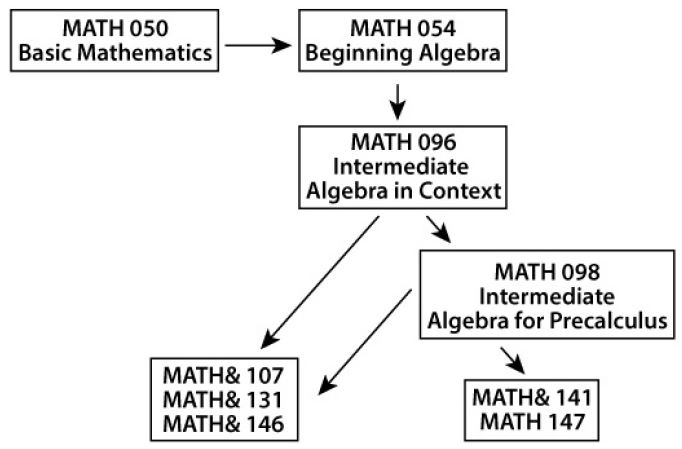 After completing MATH 096  with a grade of 2.0 or better, choose one of the following Quantitative Reasoning courses: MATH 107 , MATH 146 , or MATH 131 . MATH 141  and MATH 147  require additional algebra skills and require completion of MATH 098 . Choose the course that fits your program of study. Sample programs are listed for each course. See your advisor and math instructor if you have questions.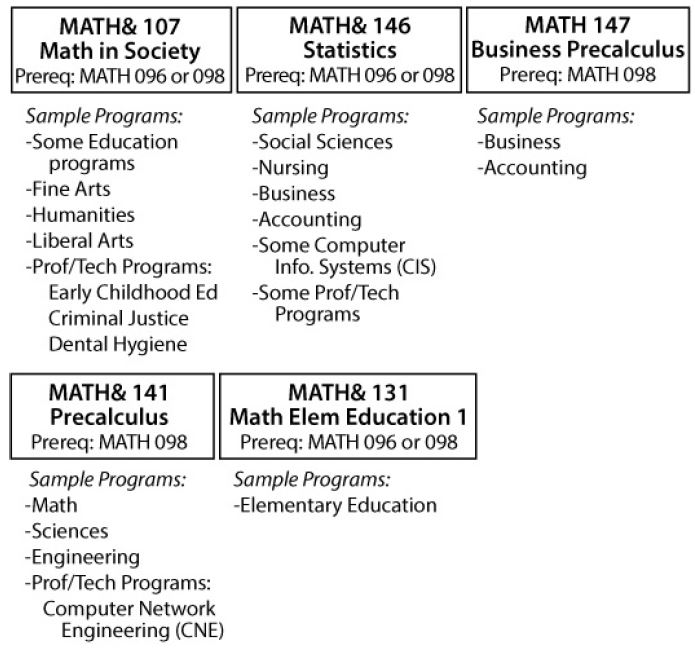 Math Lab
Courses offered in the Math Lab format provide students personalized instruction in pre-college-level mathematics courses. Classes meet in a computer lab and instruction will be computer based, with videos and exercises individualized for each student. The instructor and classroom tutor will provide individual assistance. Daily attendance at the registered hour is expected. Additional open lab hours may be available; check the e-schedule quarterly. This class is recommended for students who work well independently and are interested in accelerating through the material quickly. Students will have the opportunity to complete more than one class worth of material during the quarter with no additional tuition costs.
Courses Offered Through the Math Lab:
MATH 050 Basic Mathematics (5)  
MATH 054 Beginning Algebra (5)  
MATH 098 Intermediate Algebra (5)  
---
Back to Top
|

Print-Friendly Page